Merilyn Sakova » A Day With Merilyn Part One
Unable to play the trailer? Try one of these:
MP4 640X360
This is part one of two parts. If you enjoyed the natural, candid point-of-view of the Merilyn special Merilyn Exposed (on DVD as "Merilyn In Yer Face"), then you'll love A Day With Merilyn. This video has some of the same action as parts of Merilyn Exposed, such as Merilyn cooking and eating a meal, but is still different enough in presentation to stand on its own merits. Our cameraman enters Merilyn's bedroom to wake her up. This is never as easy as it might sound because Merilyn is a sleepyhead who always craves a few more minutes of slumber-time. Without even getting out of bed, Merilyn stretches out to loosen up for the day.
23:43 mins
Rating
Download Options
Full Scene Download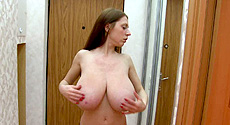 Five-minute Clips
More Merilyn Sakova Videos