Merilyn Sakova » Dripping Wet Nipples
Unable to play the trailer? Try one of these:
MP4 640X360
Merilyn's chesty treasures are concealed by her thin shirt. But such delights must not be concealed for too long, or frustration will kick in. She pops her twin props from under the shirt and juggles them, squeezing and rubbing her breast-flesh. After long, enjoyable minutes of this, she puts them back under her shirt. Our fearless photographer squirts her shirt with oil, making the cotton fabric translucent and her boobs visible. Merilyn removes her top completely.
11:09 mins
Rating
Download Options
Full Scene Download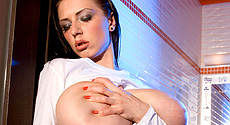 Five-minute Clips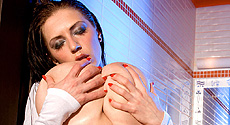 More Merilyn Sakova Videos